Sailor's End


Details
Type
Mountain
Level Range
16-20
Location
Mainland Ardent
Sailors End is a zone in Villagers & Heroes.
There are many tales of ghostly female apparitions standing on the coastline of Sailor's End, beckoning ships to cast their hulls upon the unforgiving rocks.
Extra Info
The Cathedral portal can only be reached if the zone was entered from The Red Cloister.
The Cathedral = this is a bit tricky: First, you enter The Salty Shallows, run to other side = Halls of Salvation.
Then again run to the other side = The Red Cloister.
Then run again to the other side = Sailors End, now you have arrived at the upper part of Sailors End.
Run to the other side now = The Cathedral.
The secret chamber of Lady Philippa is at B4: A few steps before the portal (facing the portal), jump down to the sea, run a little bit till you see on your RIGHT side: a ramp (grid C5) (see picture):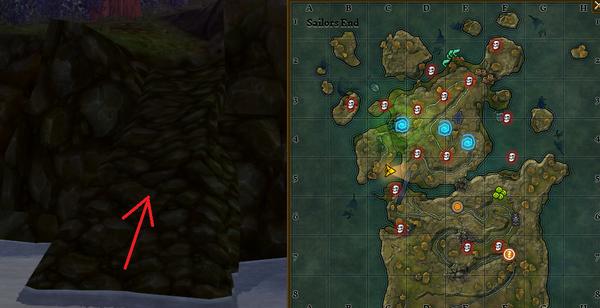 .
NPCs
Some NPC's will not be here permanently!
Quests
Portals
Enemies
Bounties
Zingara
Crafting Stations
Gather Nodes