m

m

(One intermediate revision by the same user not shown)
Line 14:
Line 14:
 
 
 

== House Styles ==

 

== House Styles ==

 
+

[[File:HouseStyleMenu.PNG|thumb|House Style Menu]]

 

There are many types of house styles so that every player can customize their house to their own style.

 

There are many types of house styles so that every player can customize their house to their own style.

 
 
Line 20:
Line 21:
 

The Rustic theme if free, while Woodland and Spooky cost gold. (You have to own the theme to be able to buy the individual styles belonging to it.)

 

The Rustic theme if free, while Woodland and Spooky cost gold. (You have to own the theme to be able to buy the individual styles belonging to it.)

 
 
−

=== Available styles: ===

+

=== Available styles ===

 

{| class="wikiable" | -

 

{| class="wikiable" | -

 

||

 

||

Line 64:
Line 65:
 

* Click on the Mix 'n Match button to pick individual patterns and designs from the styles you own within the theme. (You can not mix n' match patterns from different themes, only within one theme.)

 

* Click on the Mix 'n Match button to pick individual patterns and designs from the styles you own within the theme. (You can not mix n' match patterns from different themes, only within one theme.)

 
 
 
+

[[File:Mixnmatch.PNG|left|thumb|Mix n' Match menu options]]

 

[[de:Häuser]]

 

[[de:Häuser]]
---
Revision as of 16:02, 22 February 2020
A player can purchase a house in a village. There are many benefits to owning a house, as well as living in a village.
Buying a Home
Moving into a house: Enter the orange portal at Summer's Hollow or Ardent City. Pick a village (certain villages are guild villages, where one can only move into a house if they are a guild member), enter and look at the map to see the house plots that are available to move into. The cost of moving in is free.
Rent
Renting a house is free. As long as you log in at least once within 14 days you will not lose your house. There is a possibility to pay for an extension on your house (an extra 14 days) which costs gold. - the higher level your character is, the higher cost for the extension. Click on your house to see this option.
The House Locker
The House locker is one of the many perks of the house. It is one additional full-sized vault. The house locker can be accessed at your house, or at any vault around the Seven Realms.
If you have items in your house locker, and then lose your house, those items will be safe, but will be locked away until you own a home again.
House Styles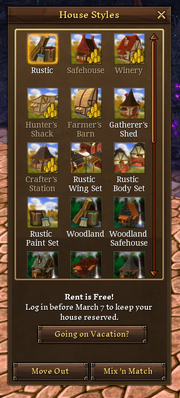 There are many types of house styles so that every player can customize their house to their own style.
Some house styles are accessible to the player immediately when moving in, while others have to be bought by gold or house tickets.
The Rustic theme if free, while Woodland and Spooky cost gold. (You have to own the theme to be able to buy the individual styles belonging to it.)
Available styles
Rustic (free)

Safehouse
Winery
Hunter's Shack
Farmer's Barn
Gatherer's Shed
Crafter's Station
Rustic Wing Set
Rustic Body Set
Rustic Paint Set

Woodland

Woodland Safehouse
Woodland Winery
Jack's House
Collector's Station
Home-in-the-Forest
Woodland Wing Set
Woodland Body Set
Woodland Paint Set

Spooky

Spooky Safehouse
Spooky Winery
Haunted Barn
Spooky Shack
Spooky Shed
Spooky Wing Set
Spooky Body Set
Spooky Paint Set
Walkthrough
Click on your house (a paint-can icon should be visible) to open the House Style menu.
Click on the theme you want and then on the style you want.
OR
Click on the Mix 'n Match button to pick individual patterns and designs from the styles you own within the theme. (You can not mix n' match patterns from different themes, only within one theme.)