We're Getting Mutants in the MCU - The Loop
Play Sound
Herbalore
Details
Level
95
Type
Repeatable quest
Location
Blight Bay
Herbalore is a Quest in Villagers & Heroes.
Kyra wants me to head to each of the Blights and collect rare herbs.
Prerequisite
NPC
Objectives
Collect a Kindled Blossom from the Scarlet Isle or Bloodstone.
Collect a Pestiferous Pod from Oblivion Shores or Quietus.
Collect a Beryl Bladeweed from ash White or Cinder Strand.
Collect a Grundle Root from the Dusk Twins or Shadenor.
Return to Kyra Coalbane.
Rewards
18 silver
497k XP
60 Blight Medallions
Walkthrough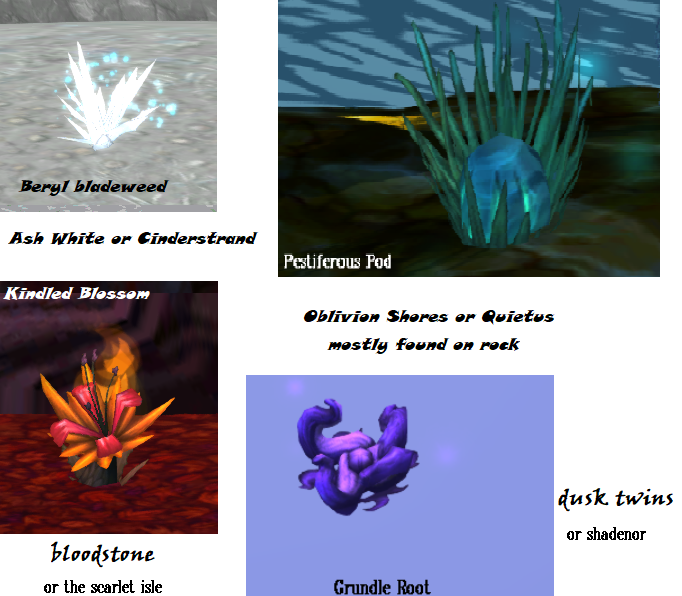 For maps and coordinates of specific locations where herbs could be found, see spoilers here:
Spoilers here!
Note: not all coordinates or locations will be correct for everyone. Some will be off.
BERYL BLADE:
ASH WHITE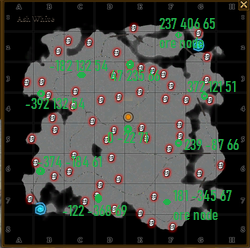 Ash White B3/4 (-392 132 54) near Scodru Cinderstar
Ash White C3 (-182 219 66)
Ash White G3/4 (372 121 51)
Ash White B5/6 (loc -374 -184 61) near Vundic Sootguard
Ash White D5/E5 (loc 0 -22 71)
Ash White D7 (loc -122 -368 69)
Ash White E3 Northern part (loc 47 235 66)
Ash White F1/2 (loc 237 406 65)
Ash White F7 Koldcore Deposit
Ash White F5 (239 -87 66)
CINDER STRAND
Cinder Strand D1/2 Between Sootfang and Jendias Flamesorrow
Cinder Strand D7 (loc-97 -641 87) center
Cinder Strand G5 (loc 764 -159 91) near 95 ore node, west of Phadrill Charrtrel
Cinder Strand C3 center
Cinder Strand C4/5 (loc -402 22 83) small island
Cinder Strand B1/B2 next to 93 Koldcore node
Cinder Strand B6 down hill below Lilfuic Sootguard
Cinder Strand F2 near Agella Searheart
Cinder Strand F/G7 (loc 538 -724 90) top of the hill east of Talo Searheart
Cinder Strand F6 (loc 342 -300 81) southwest of Cilsa Cinderstar
GRUNDLE ROOT:
DUSK TWINS
Dusk Twins A4/5 (loc -423 9 34) east of pomegranate tree
Dusk Twins B2 West of Pomegranate Tree
Dusk Twins B7/C7 (loc -256 -290 50) next to pomegranate tree
Dusk Twins E3 (loc 48 225) a fair bit north of pomegranate tree
Dusk Twins D6/E6 (loc 0 -173 46) next to a pomegranate tree
Dusk Twins E7 (loc 133 -285 35) next to pomegranate tree
Dusk Twins C5/6 (loc -183 -122 48) next to pomegranate tree
Dusk Twins F4 (209 118 4) between the 2 bounties at F3 and F4
Dusk Twins G2 (303 299) next to pomegranate tree, west side
SHADENOR
Shadenor A5/6 next to Pomegranate Tree
Shadenor B3/C3 near mob (t -399 402 155); near Duaesh Runestalker
Shadenor C7 east of pomegranate tree
Shadenor D3 West of Lethsil Soulsong
Shadenor D5 (loc 8 -139 150) SE of Pomegranate tree
Shadenor E7 (loc 198 -552 145) Up on the hill, west of Pomegranate
Shadenor F2 (loc 345 643 135)
Shadenor F4 south east of Pomegranate tree, west of Kanaa Nightwalker (loc 284 204)
Shadenor G4/H4 North of Nare Stargaze
KINDLED BLOSSOM:
THE SCARLET ISLE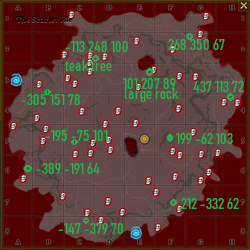 The Scarlet Isle A6 (-389 -191 64)
The Scarlet Isle B3/4 (-305 151 78) by slanted tree between Keiran Blackwood and Katherine Shayde
The Scarlet Isle C2/D2 (-113 248 100) next to Teak Tree
The Scarlet Isle C5 southwest of beetle node, by large bent tree
The Scarlet Isle C8 north of teak
The Scarlet Isle E4 (101 207 89) near the stone next to (Aletta Blackwood the quest npc doesn't show on map once you finish the quest)
The Scarlet Isle F5 (199 -62 103) northeast of Dragos Savant, base of the large twisted tree
The Scarlet Isle F7 (loc 223 -332 62) (maybe Near Qadira Savant)
The Scarlet Isle G2 (268 350 67)
The Scarlet Isle H4 (loc 437 113 72) near Austra Grimbite
BLOODSTONE
Bloodstone B2 (loc -687 794 87) near Viktoria Bitterlark;
Bloodstone B4 (-688 45) south of Rahul Hartwell
Bloodstone B7 (loc -613 -563 51) near Zakira Marlowe
Bloodstone C3 (loc -474 475 78) near Darren Cromwell
Bloodstone D5 ( loc-216 -25 56) NW of Griselda
Bloodstone D6 North of Gallowbane
Bloodstone E2/E3 near Heskel Morden
Bloodstone E4 (142 164 85) North of Elias Acridbane
Bloodstone G3 (634 367 59) South East of Dommika
Bloodstone G5 (loc 601 -89 83) near Anton Grimbite
PESTIFEROUS POD:
OBLIVION SHORES
Oblivion Shores C3/D3 ( loc -141 232 48) south of Arno Keetes
Oblivion Shores C5 (loc -195 -33 43)
Oblivion Shores C6 (-131 -220 39)
Oblivion Shores D6 (-133 -221 40)
Oblivion Shores E4 (loc 61 71 37) flat rock east of silknest/Mutz Plaguer
Oblivion Shores E5/F5 (437 113 72) North of Conny Blankley
Oblivion Shores F3/G3 (275 176 40) flat rock west of Chilton Blakemore
Oblivion Shores B7/8 (-320 -412 35) at big rock near Silknest
Oblivion Shores F1 South of Athena Blakemore
Oblivion Shores G5 (loc 370 -99 35)
Oblivion Shores G7 in the camp by the NPC Myrthe Farwill (south of the silknest) (295 -405)
QUIETUS
Quietus A1 on the big rock
Quietus B7 (-714 -679 82) right of lavender silk nest near Neville Omens
Quietus C4 next to Ramsey Blakemore on rock
Quietus C6 south of Xandra Keetes on large rock (loc -363 -477 91)
Quietus E3 west of Siltmaw (loc 257 467 71)
Quietus E5 west of Corpsehide on small rock (loc 114 -188 73)
Quietus E7 near Nicodem Braxton (113 -650 72)
Quietus F4/5 NE of Searlus Grimstead on small rock (460 86 73)
Quietus G3 east of Thorn Grimstead osometimes on rock (loc 754 468 78)
Quietus G7 (loc 742 -657 78) north of Jesekiel Blankley on a rock
Talk to Kyra Coalbane again.
This ends the quest and you will be rewarded for it.
Dialogue
Kyra Coalbane : "Such lovely foliage! I need more, care to help?"
You "Yes, I can help."
Kyra Coalbane: "I need four different kinds of rare herbs, one from each of the Blights. Head to any of the islands and collect for me a Pestiferous Pod, a Kindled Blossom, some Beryl Bladeweed, and some Grundle Root."