Tags:

Mobile edit

Mobile web edit

m

Line 71:
Line 71:
 
 
 

<u>Shadenor</u> B3/C3 near mob (t -399 402 155);

 

<u>Shadenor</u> B3/C3 near mob (t -399 402 155);

 
+
 
+

Shadenor C7 east of pomegranate tree

 
 
 

<u>Shadenor</u> E7 (loc 198 -552 145) Up on the hill, west of Pomegranate

 

<u>Shadenor</u> E7 (loc 198 -552 145) Up on the hill, west of Pomegranate
---
Revision as of 16:16, 15 November 2019
Herbalore
Details
Level
95
Type
Repeatable quest
Location
Blight Bay
Herbalore is a Quest in Villagers & Heroes.
Kyra wants me to head to each of the Blights and collect rare herbs..
Prerequisite
NPC
Objectives
Collect a Kindled Blossom from the Scarlet Isle or Bloodstone.
Collect a Pestiferous Pod from Oblivion Shores or Quietus.
Collect a Beryl Bladeweed from ash White or Cinder Strand.
Collect a Grundle Root from the Dusk Twins or Shadenor.
Return to Kyra Coalbane.
Rewards
18 silver
532,5k XP
60 Shadenor Medallion
Walkthrough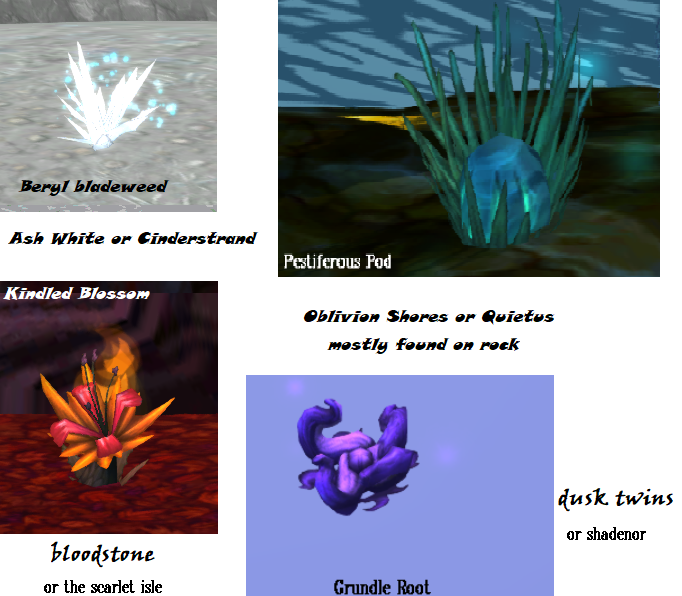 Spoilers here!
Beryl Blade:

Ash White C3 (-182 219 66)

Ash White B5/6 (loc -374 -184 61) near Vurdic Sootguard

Ash White D5/E5 (loc 2 - 25 72)

Ash White F1/2 (loc 237 406 65)

Ash White F7 Koldcore Deposit

Cinder Strand D7 (loc-97 -641 87) center

Cinder Strand G5 (loc 764 -159 91

Cinder Strand C4/5 (loc -402 22 83) small island

Cinder Strand B1/B2

Cinder Strand F2

Cinder Strand F/G7 (loc 538 -724 90) Right side of Talo Searheart
Grundle Root:

Dusk Twins A4/5 (loc -423 9 34)

Dusk Twins B2 (West of Pomegranate Tree)

Dusk Twins D6/E6 (loc 0 -173 46) next to a pomegranate tree

Dusk Twins E7 (loc 133 -285 35) next to pomegranate tree

Shadenor A5/6 (next to Pomegranate Tree)

Shadenor B3/C3 near mob (t -399 402 155);

Shadenor C7 east of pomegranate tree

Shadenor E7 (loc 198 -552 145) Up on the hill, west of Pomegranate

Shadenor G4/H4 North of Nare Stargaze;
Kindled Blossom:

The Scarlet Isle A6 (-389 -191 64)

The Scarlet Isle C2/D2 next to Teak Tree

The Scarlet Isle F5 (199 -62 103) near Dragos Savant

The Scarlet Isle F7 (loc 213 -330 63) Near Qadira Savant

Bloodstone B7 (loc -613 -563 51) near Zakira Marlowe

Bloodstone B2 (loc -687 794 87) near Viktoria Bitterlark;
Pestiferous Pod:

Oblivion Shores E4 (loc 61 71 37)

Oblivion Shores E5/F5 (North of Conny Blankely)

Oblivion Shores B6/7 (loc -316 -412 35)

Oblivion Shores G5 (loc 370 -99 35)

Quietus G3 ( east of Thorn Grimstead on rock)
Talk to Kyra Coalbane again.
This ends the quest and you will be rewarded for it.
Dialogue
Kyra Coalbane : "Such lovely foliage! I need more, care to help?"
You "Yes, I can help."
Kyra Coalbane: "I need four different kinds of rare herbs, one from each of the Blights. Head to any of the islands and collect for me a Pestiferous Pod, a Kindled Blossom, some Beryl Bladeweed, and some Grundle Root."