Flower of Dartrey
Details
Level
82
Type
Repeatable quest
Location
Dartrey Woods
Jeen Mirur has asked me to find a Dartrey Flower.
Prerequisite
NPC
Objectives
Find a Dartrey Flower.
Return to Jeen Mirur.
Rewards
8 silver, 60 copper
230k XP
Walkthrough
This is a daily quest. The Dartrey Flower can be anywhere in the woods. Hopefully an exact number of finding spots will be found, but that remains to be checked.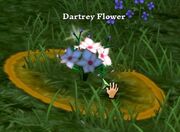 According to players it has been found at:

B4, NE corner of grid at the base of a tree.
D2, on a ledge on the mountain side by the bounty Kael .
C3, in the middle of the grid behind a tree.
E7 (west edge).
G4, by a tree near the ore nodes.
Return to Jeen Mirur D6/7 once you have found the flower to complete this quest and to receive your reward.
Dialogue
Jeen Mirur:"<Player_Name>, could you find a Dartrey Flower for me? It is supposedly incredibly beautiful."
You:"Sure! I'll see if I can find one for you."
Jeen Mirur:"The Dartrey Flower is so beautiful that it sparkles!"
...
Jeen Mirur:"Have you found the Dartrey Flower yet?"
You:"I have finished my task."
Jeen Mirur:"Thanks <Player_Name>, it's so beautiful. Maybe you can find me another one tomorrow."
You:"Farewell."