We're Getting Mutants in the MCU - The Loop
Play Sound
Christmas Memories
Details
Level
Scaled
Type
Event quest
Location
Grinchta's Lair
Christmas Memories is a Quest in Villagers & Heroes.
Eggey Nogton has asked me to help him find his Christmas Memories.
Prerequisite
NPC
Objectives
Collect 5 Christmas Memories. I can find these floating around in Grinchta's Lair.
Return to Eggey Nogton.
Rewards
Walkthrough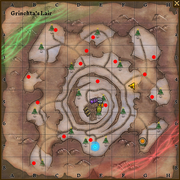 This is a daily Quest.
You'll get one Christmas Memory from interacting with the little blue floating balls found all over the map. Gather 5 of them. When you pick up the quest, 5 will appear on your map out of several possible spawn locations.
Return to Eggey Nogton G6 and give her the Christmas Memories.
This ends the quest and you get your reward.
Extra Info
Since this is a scaled event quest, the XP REWARD is also SCALED.
The reward items vanish when the event zone closes.
Dialogue
Beginning
Eggey Nogton: "Do you have nice Christmas memories?"
You: "Of course! Do you?"
Eggey Nogton: "I used to, but I lost them! Could you help me find them? They are somewhere here in Grinchta's Lair."
Memory interaction
Memories:
"I went Ice skating with some friends one Christmas afternoon. I was putting on my skates that had broken laces and dull blades, when my friend skated up and handed me a brand new pair of skates with a big red ribbon. She knew just what to get me!"
"One Christmas Eve, we were all tired and ready for bed. The fire was crackling and we all had a cup of hot chocolate. We were all excited for Santa to come, but the days festivities really wore us out. I don't remember falling asleep, but when I woke up I was cuddled up with a blanket under the Christmas tree with my whole family around me. How blessed I was!"
"One Christmas, I didn't know what to get my grandmother as I didn't have much money. So instead I wrote her a letter about all of the things I admired about her. I thought it was silly and she would think my present poor, but as she opened it, tears formed in her eyes. She was so happy and said it was her favorite present that year."
"One Christmas, I wanted a teddy bear, but I didn't expect to get it because they were hard to find. As I was opening presents, I held up a package that was clearly a pair of shoes. But as it turns out those shoes had a teddy bear stuffed inside!"
"One Christmas, I was sad. My family wasn't going to make it for Christmas dinner because of a snow storm. As I was settling in to eat dinner alone, I heard a knock on the door. It was my family! They had borrowed a sled and made the journey! 'Snow storm? What snow storm?' they joked. I was so happy."
"One Christmas, times were tough. We didn't have the money to pay for presents, decorations, or even a Christmas dinner. We tried to keep in good spirits, but I'll admit it was hard. Then my father spoke up and reminded us that we should all be thankful for our health and for one another. We had a big family hug that lasted several minutes. That is the best Christmas presents of all, to love and be loved."
"One Christmas, we were going to have a large Christmas feast. My mother and father had worked all day making savory dishes of every kind. However, only a short while before we were to eat, my mother heard word that a neighboring family had endured a tragedy. Being the upright people my parents were, all of dinner was packed up and taken to our neighbors' home. At first I was sad to not have our traditional Christmas dinner, but seeing the faces of that family as we delivered the meal was the best thing ever. The heart warms better than the tummy does!"
"One Christmas, we were out singing Christmas Carols. I didn't know the words to many of the songs, so just hummed and mumbled along. Little did I know that everyone else was aware of this and planned a time where they would stop singing and give me a solo. The look on my face as it all went silent but for my gibberish words must have been a sight to see as shortly after everyone burst out in laughter. What a good time we had."
"One year I got a brand new yo-yo as a gift. I had been borrowing one from a friend at school and was quite skilled and even knew a few tricks. Seeing how easy I made it look, my father asked if he could have a go. After the first throw the yo-yo bounced back up and hit him squarely in the nose. He insisted the yo-yo was defective and we all had a good laugh."
"One year, a week before Christmas, my mother and father insisted that all of us children remain home for the entire day instead of going out and playing in the snow. We didn't understand why and were upset. However, shortly later, my parents returned home and announced that Christmas was coming early and that it was here! We didn't know what to make of it all until we heard a very tiny squeaky barking sound coming from the back room. A short time later a small puppy with a big ribbon on its collar came running down the hallway. Our very own puppy! We all fell instantly in love and that puppy became one of my best and loyal friends."
"One year, after we had finished opening up our Christmas stockings, my brother snuck around and collected all the empty stockings. As we turned around, we saw that he had put them on and was dancing around like a clown. We all had such a good laugh!"
"The first Christmas after my family had a tragedy was hard. We all loved Christmas, but that year it felt like it only brought up painful memories. It was my mother who finally had enough and called a family meeting. She said that the memories shouldn't remind us of our pain, but remind of us how blessed we were to have those memories in the first place. We spent the next several hours sipping eggnog and recalling all of the wonderful memories we had. I never felt so close to my family in all my life."
"One Christmas, my entire family came over for dinner. We had brothers, sisters, parents, cousins, grandparents and more from all sides of our family. Every table in the house was taken up with food, and most of us had to sit on the floor for lack of chairs. But not a sorry face was to be seen as everyone was having such a merry time."
"One Christmas, I was dared to fit as many candies in my mouth as possible. I didn't know the candies were Christmas taffy until after I tried to spit them out and couldn't. Everyone was laughing as I couldn't say a single word. What fun we had!"
"The first time I had eggnog, I didn't know what it was. I thought it was spoiled milk. But as soon as my lips touched the cup, I knew this was my new favorite drink. It warmed my heart and my tummy. To this day, it is my favorite holiday drink."
Response to all memories:
You: "What a nice memory."
Upon Return
Eggey Nogton: "Did you find my memories?"
You: "I did. They were very nice."
Eggey Nogton: "Oh it is so good to have them back. Thank you, <Player Name>!"
You: "Goodbye."